Discrimination

✖ No protections

Employment Discrimination

✔ Sexual orientation and gender identity

Housing Discrimination

✔ Sexual orientation and gender identity

Donating Blood

✖ Banned (indefinite deferral)

Conversion Therapy

✖ Not banned
Public Opinion
"Should Society Accept Homosexuality?"
History
Current status
(since Jan 1, 1900)
Legal
The only article that may apply to LGBT is Article 200 of the penal code which cites "serious sexual misconduct"
Current status
(since 2007)
Illegal
Filipinos who undergo gender re-assignment surgery are not permitted to change their legal gender per a supreme court ruling in
2007
. Individuals with Congenital Adrenal Hyperplasia (CAH), a very rare gender disorder, are permitted to change their gender
No protections
There are no nation-wide discrimination protections for LGBT people.
On October 17,
2012
, Cebu City approved an anti-discrimination policy.
On September 25,
2014
, Philippine province, Agusan del Norte, passed an anti-discrimination ordinance that protects people irrespective of their sexual orientation and gender identity and expression.
Current status
(since 2009)
Not banned
Not banned. Conversion therapy ban pending.
---
---
---
Latest News
---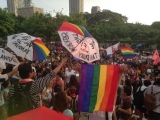 ---
---
Search Interest
LGBT Rights in Southeast Asia