Homosexuality

⚢

Male illegal, female uncertain

Discrimination

✖ No protections

Employment Discrimination

✖ No protections

Housing Discrimination

✖ No protections

Conversion Therapy

Ambiguous
Public Opinion
"Should Society Accept Homosexuality?"
History
Male illegal, female legal
10-14 years in prison. Not enforced. decriminalization proposed by one presidential candidate.
Current status
(since Jun 1, 1916)
Male illegal, female uncertain
Article 217 punishes male homosexuality for up to 3 years in prison. Although female is not directly stated, article 214 (regarding unnatural carnal knowledge) can apply.
No protections
Although the discrimination protection clause protect citizens against all forms of discrimination, there are also provisions within the protection against discrimination that encourages "the evolution and promotion of family life" with a family having a "traditional" family connotation.
No protections
Homosexuality is still illegal there.
Legal
No discrimination protection exist in the criminal code.
---
---
---
Latest News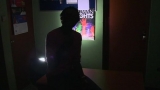 ---
---
Search Interest
LGBT Rights in Western Africa