Adoption

Married couples only

Discrimination

✖ No protections

Employment Discrimination

✖ No protections

Housing Discrimination

✖ No protections

Military

Don't Ask, Don't Tell

Conversion Therapy

✔ Banned
Public Opinion
"Should Society Accept Homosexuality?"
History
Unrecognized
The date is the ratification of the Indonesian Constitution. Same-sex marriage is not a legislative priority in Indonesia.
Married couples only
Same-sex couples are legally prohibited from adopting children in Indonesia. Prospective parents must be in a marriage recognized by Indonesia.
No protections
There are no anti-LGBT discrimination protections.
No protections
There is no anti-discrimination law on the basis of sexual orientation and gender identity.
Theoretically there is a guarantee of protection against discriminatory practices based on any
ground in the Constitution and the Human Rights Law (No. 39/
1999
). Similarly, the Labor Law
(No. 13/
2003
) prohibits discrimination in employment. However, this is little known in LGBT
communities, and has not been used in court in a case to challenge discrimination against LGBT
people.
No protections
as far as I know.
Unequal
The age of consent for males and females engaged in heterosexual activity is 19 and 16, respectively. For homosexual activity, the age of consent is 18.
Current status
(since Mar 10, 2016)
Banned
Because of this ban police started an lgbt crackdown.
---
---
---
Latest News
---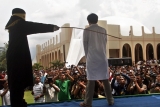 ---
---
Search Interest
LGBT Rights in Southeast Asia