Adoption

Married couples only

Discrimination

✖ No protections

Housing Discrimination

✖ No protections

Employment Discrimination

✖ No protections

Military

Don't Ask, Don't Tell

Conversion Therapy

✔ Banned
Public Opinion
"Should Society Accept Homosexuality?"
History
Current status
(since Oct 23, 2015)
Varies by Region
Aceh's law on criminalizing same sex behaviour for Muslim men came into effect on October 23rd,
2015
.
Varies by Region
Sex between consenting adults (18 years of age by the Law on Child Protection, No.
23/
2002
) of the same sex or gender is not criminalized in the Indonesian Penal Code.
There are five exceptions where homosexuality is criminalized in local ordinances:
1. Provincial Ordinance on the Eradication of Immoral Behavior (No. 13/
2002
) in South Sumatra.
This classi$es homosexual acts and anal sex performed by men (without speci$cation whether
insertive or receptive) as immoral behaviour, along with acts such as prostitution, adultery,
gambling and the consumption of alcoholic drinks.
2. City Ordinance on the Eradication of Prostitution (No. 2/
2004
) in Palembang, capital of South Sumatra Province. It is similar to the Provincial Ordinance, but uses the term "prostitution" instead of "immoral behavior."
3. District Ordinance on Social Order (No. 10/
2007
) in Banjar, South Kalimantan Province. It
mentions "abnormal" homosexual and heterosexual acts (in addition to "normal" ones) in
its definition of "prostitute." No explanation is given for "normal" or "abnormal" acts. It also
prohibits the formation of organizations "leading to immoral acts" that are "unacceptable to
the culture of [local] society." These are later explained by giving examples of lesbian and gay
organizations "and the like."
4. City Ordinance on the Development of a Value System in Social Life Based on the Teachings of
Islam and Local Social Norms (No. 12/
2009
) in Tasikmalaya, West Java. It prohibits adultery and
prostitution, both heterosexual and homosexual.
5. City Ordinance on the Prevention, Eradication and Prosecution of Social Ills (No. 9/
2010
)
in Padang Panjang, West Sumatra. The section with de$nition of terms explicitly mentions
"homosexual and lesbian" relationships and later prohibits such relationships and prohibits
persons from "o#ering themselves for homosexual and lesbian relationships either with or
without payment."
Alongside these local ordinances, Aceh province (a province with significant legislative autonomy from the rest of Indonesia) from October,
2015
, criminalises homosexual sex between muslim men with a punishment of up to 100 lashes.
Legal
The date listed is the ratification of the Indonesian Constitution. Homosexuality is legal in Indonesia with the exception of Aceh and South Sumatra.
Legal
except for muslum areas of Indonesia.
Unrecognized
The date is the ratification of the Indonesian Constitution. Same-sex marriage is not a legislative priority in Indonesia.
Married couples only
Same-sex couples are legally prohibited from adopting children in Indonesia. Prospective parents must be in a marriage recognized by Indonesia.
No protections
There are no anti-LGBT discrimination protections.
No protections
There is no anti-discrimination law on the basis of sexual orientation and gender identity.
Theoretically there is a guarantee of protection against discriminatory practices based on any
ground in the Constitution and the Human Rights Law (No. 39/
1999
). Similarly, the Labor Law
(No. 13/
2003
) prohibits discrimination in employment. However, this is little known in LGBT
communities, and has not been used in court in a case to challenge discrimination against LGBT
people.
Don't Ask, Don't Tell
There is not a specific law against LGBT military service however, gay and lesbian Indonesians face discrimination when attempting to serve in the military.
Unequal
The age of consent for males and females engaged in heterosexual activity is 19 and 16, respectively. For homosexual activity, the age of consent is 18.
Current status
(since Mar 10, 2016)
Banned
Because of this ban police started an lgbt crackdown.
---
---
---
Latest News
---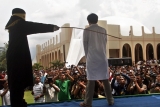 ---
---
Search Interest
LGBT Rights in Southeast Asia