How do I add a new entry?
While on a country, identify the issue (such as "gay marriage") that you'd like to edit, and click "add an entry."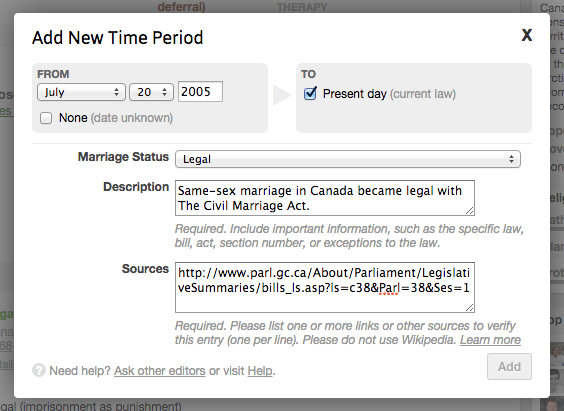 Date
Choose the dates that the law began and ended. If the law you're adding is the present day law, select "none" for an end date.
Law Status
Choose the status of the law during those time periods. These statuses are predefined and cannot be edited (see:
The law status that I'm looking for isn't listed. What do I do?
).
You can also use three
special law statuses
. Please use these only when applicable:
Ambiguous: If the status of a law is debated or contested.
Not applicable: If the law does not apply to the country (for example, "LGBT people serving in the military" in a country that does not have a military program would be labeled as "Not applicable".)
Varies by region: If there are no laws defined at a national level, using this status will indicate that laws are defined by each of the country's states or provinces. Equaldex will display all state and province laws available for this issue.
Description
Descriptions can be used to give a reader significant information about the law. See:
What are the guidelines for writing a description?
Sources
Sources help verify the data you are inputting. See:
What are sources used for?
Other Questions
Adding Data
Editing Data
Profiles
Regions
General
Organizations